Your Source of the Highest-Quality Scoreboards
Signs Hawaii has the right scoreboard for you!
Let us help provide you with the perfect scoreboards your school, gymnasium, or field deserves. We are your one-stop-shop from design to installation to service. Zero downtime is our goal, so you can keep on scoring!
We provide Scoreboards that are incredibly reliable and are suited for even the most extreme conditions. Reliability you can count on, even when those games get tough!
We can help match your school's colors with over 150 standard paint colors to choose from.
Installations and service for all LED Scoreboards and Displays for:
Contact service@signshawaii.com or call/send photos to (808) 852-9649 for any servicing needs.
Signs Hawaii is the Daktronics and Fair-Play Distributor and Service Center for all Hawaiian Islands and Guam.
Signing and Scoring Hawaii Since 1980.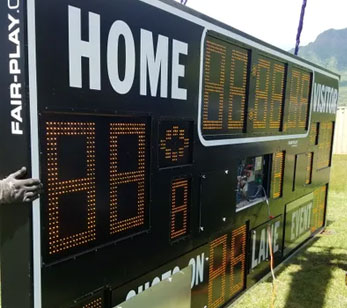 With our crew of experienced technicians, we were approached by Fair-Play in 2012 to provide Sales and Service for their Scoreboard products as well, knowing we also support Daktronics and all other manufacturers.
With this specialized Electronic Signs and Scoreboards training and experience, we gradually migrated from offering any Signage project to focusing only on Electronic Displays. LED Video Marquee, Video Boards and Scoreboards SALES, INSTALLATION and SERVICE.
We offer 24/7/365 Service and maintain a large fleet of displays and scoreboards in the islands.
We are also instrumental in providing the most cost-effective, reliable solutions to your site and needs. Please feel free to have us come out for a free consultation, with creative, knowledgeable suggestions and Quotes for requested options we discuss.